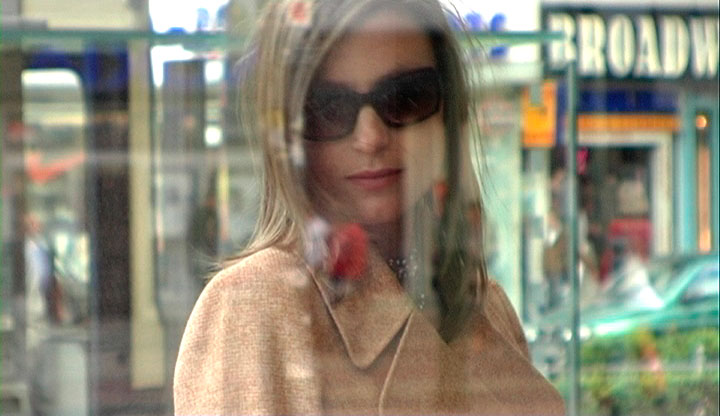 Kurzspielfilm 2007 - 34 Min. [view excerpt]
Summary: "I used to think that life is change, but it isn`t". At a casting, actress Gloria must perform a text, that could be her own. Her life has become stagnant for too long, already. Each day Gloria is roaming the subway stations of Berlin, searching for her drug, without which she cannot live any more than with it. There she runs into Jamil, a young drug dealer, whose interest in her quickly transcends business."
Jury statement, First Steps 2006:
"Inspired by the real junkies and dealers at Kottbusser Tor, this is not only an homage to Cassavetes, but is also reminiscent of French cinema in its mixture of the elegant and the sordid. The story of an unsuccessful actress, whose life is controlled by drugs, is perhaps nothing new–but it is told in such a way that this fragment makes us curious about what this young director will do next. One of the most surprising things about it is how the unexpected emotional closeness of the two protagonists and their dependence on the business of addiction leads to a breaking point."
Credits:
Cast: Alice Flotron, Halil Yavuz, Horst Markgraf, Greta Amend, Oliver Kraatz,
Floria Teipen, Ute Seufert, Christoph Dreher et al.
Script, Director: Christine Lang
Cinematographer: Dirk Lütter
Editing: Kai Minierski
Sound: Robert Draber
Production Design: Nils Strnad
Costume: Yanet Paredes, Veronika Ulbricht
Producer: Academy for media arts / Christine Lang
founded by Filmstiftung NRW
Screenings:
XII Festival Internacional de Cine Independente de Ourense, Spanien, 17.-24.11.2007 Life-Style festival of Szolnok, Ungarn, 8.-14.10.2007
Cinefest Miskholc, Ungarn, 15.-23.09.2007
Open Eyes Filmfestival Marburg, 24.-27.7.2007
Flying Broom Women's Film Festival Ankara, Türkei, 10.-20.5.2007
Dreiland Festival Görlitz, 18.-20.4.2007
Audiovisual Festival Baku, Aserbaidschan (Lobende Erwähnung), 23.-27.11.2006 Nominierung First Steps Awards 2006, in der Kategorie: Fiktionaler Film bis 60 Min.