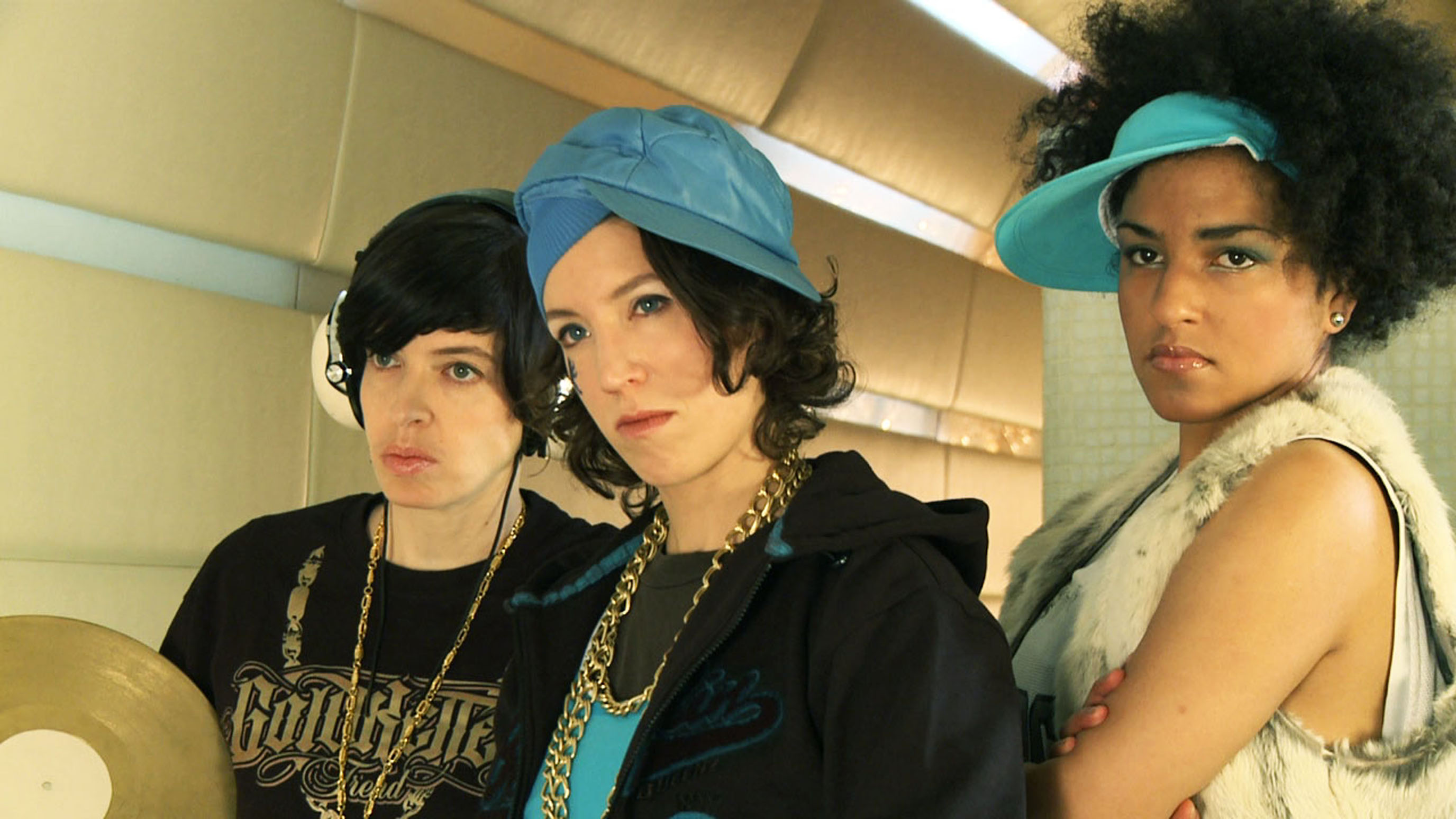 Musikvideo 2008 - 5:30 min [view clip]
QUIO and her girlgang the QUEENZ are having their own idea of a party: In the "QLUB" the girls are behind the decks. They are the leaders, and boyz are their toys. All would be great, if it wasn`t for the adversary girlgang, the KINGZ. What they don`t know is that QUIO is a voodoo queen, who can stop the time and freeze the rivals, in order to turn them into a photograph and then to get rid of them by means of a scissor...
The narrative music video QUIO: RISING TIDE operates with strategies of hegemonic femininity. The reverse gender relations are shown as being natural, just to then tell the classical story of a gang battle. Only the weapons are rather unusual to the hiphop genre...
Credits:
Cast: Ina Rotter (Quio), Irina Potapenko, Rhada Hammoudah, Ina Wudtke, Claudia Kelber, Yaneq et al
Director, Editing: Christine Lang
Concept: Christine Lang, Maria Schöpe Production Design: Maria Schöpe Cinematographer: Rasmus Sievers
Compositing: Ilona Fritzsche Executive
Producer: Anja Schwenke funded by Filmbüro Bremen

Screenings & Exhibitions:
Blitzfilm auf Weißrussland-Tour, April 2010
Blitzfilm auf VR China Tour, Okt/Nov 2009
I've seen films, Int. Film Festival Milan, 26.9.2009 ("Best Videoclip" chosen by
Rudger Hauer, Ridley Scott, Chris Nolan, Robert Rodriguez u.a.)
reel to real, Künstleraus Mousonturm, Frankfurt am Main, 6.9.2009
Open Air Filmfest Weiterstadt, 16.8. 2009
Open Eyes Filmfestival Marburg, 18.7. 2009
back.up clip award, Weimar 23.5. 2009
Internationale Kurzfilmtage Oberhausen, 3.5.2009
Musicclip Festival Barcelona, 28.4. 2009
Swan Day (Support Women Artists Now), Berlin, 28.3.2008
Fake or Feint, Filmprogramm im Rahmen der Ausstellung, Arsenal Berlin, 16.3.2009
Videoformes "Vidéothèque Éphémère", Clermont Ferrand, Frankreich, 11.-29.3.2009
Montelly Filmfestival, Lausanne, Schweiz, 10.1.2009
Queersicht Filmfestival, Bern, Schweiz, 8.11.2008
"I queerulanti" Ausstellung Gender Bender Festival, Bologna, Italien, 30.10.-20.11.2008
"Lost & Found" Ausstellung, Lothringer 13 Galerie, München, 18.10. - 29.11.2008
"Style In Motion" Musicians Institute, Hollywood, USA, 10.10.2008
FEMMES 'R' US Ausstellung, im Radialsystem, Berlin, 7.-16.08.2008