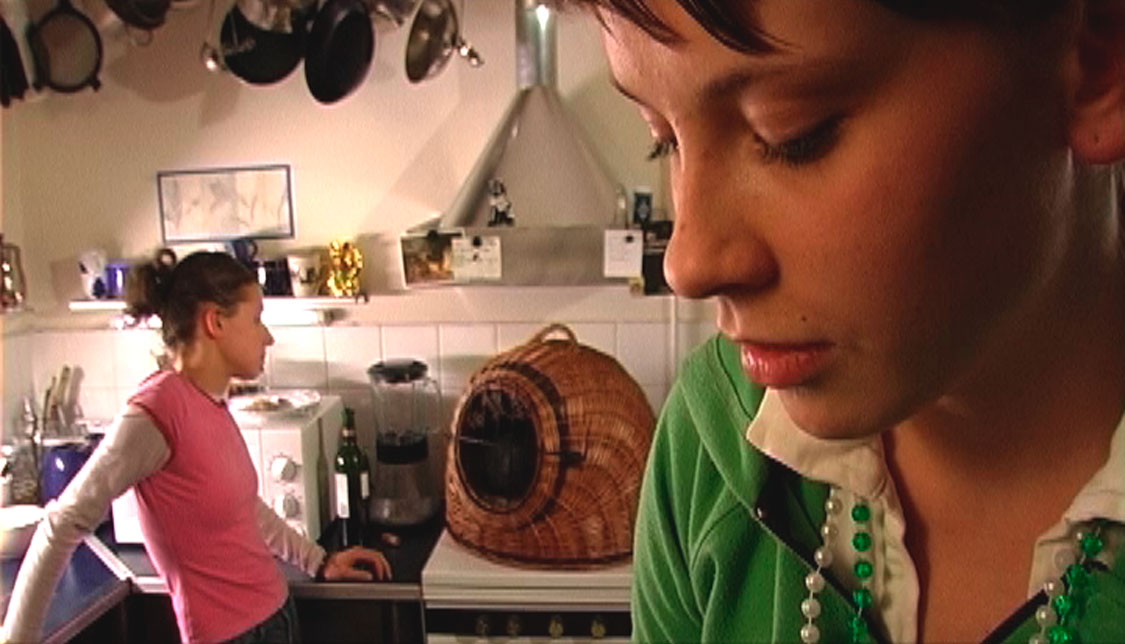 Short Film 2006 – 13 min. [view clip]
Martin and Martina seem to be an orderly couple. They arranged for Kristina to be babysitter for one night. Whether she is supposed to look after the baby or rather the cat seems not really clear. What comes out anyway is that they should better have looked after the babysitter herself...
"A well-conceived plot, realistic direction, and accomplished acting are the elements that cause this slowly accelerating spiral of problems to wind into a highly entertaining chain reaction." Jury statement, Alpinale
Credits:
Cast: Julia Schmalbrock, Susanne Sachsse, Diedrich Diederichsen, Teresa Kolbe u.a. Buch & Director: Christine Lang
Cinematographer: Dirk Lütter
Editing: Christine Lang, Lucas Tietjen, Christine Denck
Music: Rike Schubert, Max Punktezahl
Production Design: Christian Binz
Producer: Academy of Media Arts Cologne / Christine Lang
Awards (Selection):
Best Editing, Unifest Madrid 2008, Spain
Best Actress, Film Festival Salento Finibus Terrae 2007, Italy
1th Audience Award, FEC Reus 2007, Spain
Jury Preis "Shit happens" Filmfestival Landau 2006
1th Audience Award, "OSW Volker" 2006, Berlin
Nominee for the Editing Award, BMW Group Award 2006
1th Audience Award, Contravision Berlin, 2006
Goldenes Einhorn (best student film), Alpinale Vorarlberg, Austria 2006


Screenings:
Bamberger Kurzfilmtage 2006
Max Ophüls Preis 2006, Saarbrücken
Fipa Biarritz 2006, France
Kontrast Bayreuth 2006
Landshuter Kurzfilmfestival 2006
Grenzland Festival Selb 2006
Corto in Bra 2006, Italy (opening film)
Flying Broom Women's Film Festival Ankara 2006, Turkey
Achtung Berlin 2006
Cologne Conference 2006
Soester Kurzfilmtage 2006
Kurzfilmtage Thalmässing 2006 (2. audience award)
Hamburger Kurzfilmfestival 2006
Int. Filmfest Emden 2006
Cinema Concetta Rüsselsheim 2006 (3. audience award)
Huesca Filmfestival 2006, Spain
Zeitgeist Festival 2006, San Francisco USA
Alpinale 2006, Östrreich ("Bester Studentenfilm")
Open-Air-Festival Weiterstadt 2006
Kurzfilmpreis Schokoladenmuseum 2006, Cologne (2. audience award)
Festival des Films du Monde, Montréal 2006, Canada
Contravision Berlin 2006 (audience award)
Filmfestival Reinheim 2006
Halbbilder Filmfestival 2006, Magdeburg
Filmfestival Santiago de Compostela 2006, Spain
SHNIT Filmfestival Bern 2006, Switzerland
Molodist Kiev 2006, Ukraine
Kurzfilmfestival Konstanz 2006
Festival Int. du Film Indépendent de Bruxelles 2006, Belgium
Filmfestival Leeds 2006, GB
l'Alternativa Festival de CineIndependiente de Barcelona 2006, Spain
Filmfestival Landau 2006 (jury award)
Seagate Filmfestival Derry 2006, Irland
OSW Filmfestival Berlin 2006 (audience award)
exground Filmfestival Wiesbaden 2006 (3. audience award)
Filmz Mainz 2006 (opening film)
Karownale, Berlin 2007
Potenza Int. Filmfestival, Italy 2007
Bermuda International Film Festival, Pembroke 2007
European Shortfilms Festival in Reus 2007 (audience award)
Mediterranean Festival of New Filmmakers 2007, Greece
Mamers an Mars Filmfestival 2007, Paris France
Dreiland Filmfestival Görlitz 2007
International Aarhus Festival of Independent Arts 2007, Aarhus Denmark
Film Festival Salento Finibus Terrae 2007, Italy (best actress)
On and Off Filmfestival Warschau 2007, Poland
Kurzfilmnacht Altenkrichen 2007
Open Air Filmnacht Brühl 2007
Kurzfilmfestival Detmold 2007
Short Shots Berlin 2008 (2. audience award)
et. al.